I hope you guys haven't forgotten that 20% of your ang pao goes into the fund that enables me to buy more PS3 games and Blu-Ray movies. It's the Asian time of giving.. as you are probably still in high school Uncle Afiq thinks that we should implement the habit of giving right now.. let's start by giving some $ to me. Deal? Deal. Agreed. You read this already, so it's a deal.


Okay time wasted officially. Anyway today Irfan, Zafri and me went to explore some 'backyard' trails. Well actually they're those tiny dirt paths that the foreign labourers make as they rush to the construction site where they work. From Mutiara Damansara, beside the construction site where my new house is currently being built, is a small road that eventually cuts off to a dirty, muddy trail.

We went along it, and the right fork took us to Damansara Perdana, near the small Pondok Polis. Shortcut! The left fork took us to an area near the electric power lines tower. Many sandpiles, good for dirtbikes. But unfortunately for us, it's been raining alot lately so all of our tyres get moshed into the sand.

Before reaching D-P on the right trail, you can opt to detour. There are two tiny rivers to cross. Both the rivers stank and is glossy over oil spillage. Even the twigs that fell into the small stream got contaminated and is now covered in orange moss, making it look like fish fingers. The first crossing are two wooden poles, each pole being the width of an average thick mountain bike tyre. The second bridge is a concrete pillar, thank god. The end of this particular path is a wooden ladder laid across a 2-metre wide, 5-metre deep storm drain. We turned back to the main path.

Before hitting the tar road up the hill that takes us to D-P, to our left is a river. Quite big. And the upstream part is completely covered with white bubbles, giving it the

jacuzzi/bubble bath

impression. Actually its those shit that dirty people sooo like to throw in drains, look what's happened.

Damn you litterers.



To our right is a mudtrack. We thought that it was a quicksand or something, but I went ahead anyway. It's just cracked industrial mud. But like all muds and puddles in this area, it's pretty deep. My thick VueltaUSA tyres left a two-inch fission on the mud. Then there was mud banks and a large hill full of red sand. Blergh.

Went to D-P, got a drink then went back using a new route. It's a small road which has apparently been used by lorries at some time, due to two different paths running alongside each other with a grass patch in the middle. It looks like the dual slalom course at the

Sea Otter Classic

in America.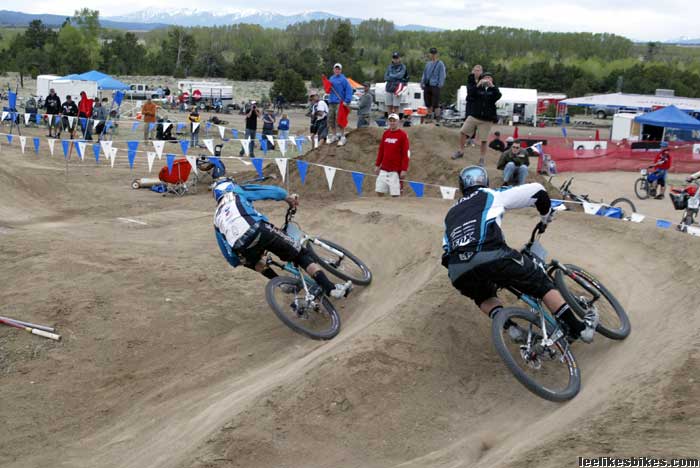 We took a left fork and exited at those unsightly Pelangi government housing flats. Then we went back to Mutiara through another hole in the fence in the Pelangi flats area. It's a singletrack path that we frequently use. It got us back to the Zone B guardhouse in no time.

Picture sources: Pekanawah, Lee Likes Bikes